I'm Niall Mackay, The Podcast Guy, founder of Seven Million Bikes Podcasts. I've always been an avid podcast listener and started podcasting as a hobby with A Saigon Podcast which then grew to A Vietnam Podcast with a worldwide following. It is now in the top 10% of podcasts worldwide (Source: Listen Notes) and still growing.
Seven Million Bikes Podcasts grew from A Vietnam Podcast to a comedy show called Did That Really Happen? and I have now produced or hosted podcasts for clients worldwide in diverse fields such as IT, craft beer, food, furniture, tourism, and pharmaceutical marketing.
My mission is to show you how to start a podcast, grow your audience and connect with your community. Whether it is a passion of yours you want to share or reach out to your business customers in a new and unique format I am here to help you.
I'll share with you everything that I've learned along the way so you can start recording your podcast as soon as possible and enjoy this amazing journey you are about to embark on.
How To Start A Podcast In 2023
Podcasts are more popular than ever. You have some great ideas and want to share stories, or perhaps market your business to a wider audience. The only limitations are your own ideas! You have your content thought out, but what are the next steps?
This article aims to provide essential podcast recording tips and to help you decide what choice you should make next. Many people think that it is easy to start a podcast. And it can be at its most basic. But it's also why most shows avoid 'podfade' within seven episodes; when a podcast stops suddenly.
To avoid this, produce a quality show with engaging content that gets your audience's attention, and attracts new listeners, AND potential sponsors, this blog post shares ten things you need to know.
1. How To Start A Podcast: Introduction
You may be thinking of recording your first podcast episode and are wondering what is a podcast actually. Is it talk radio, an audio drama, or a tv show??
Podcast insights show that the amount of podcast listening are increasing every month, with the latest research from Edison showing that nearly two-thirds of Americans have listened to a podcast episode, I still often have people ask me when I tell them I'm a podcast producer…
"But what is a podcast?" The easiest and quickest way I explain it to someone who has no idea what a podcast is, is to say, "You know radio stations? It's like that, but on the internet. You can listen to a podcast episode where and when you want."
But a podcast is much more than that, it can be fiction, non-fiction, about any subject you can imagine – but it is not live audio. And a podcast is not just a digital audio file uploaded to any website. Podcast listeners have to subscribe to popular applications such as Spotify or Apple Podcasts to listen to their favorite podcasts.
You may have also heard of the term RSS feed and wondered what exactly is an RSS feed. It sounds complicated and technical, but in truth, you don't even need to know what an RSS feed is to start a podcast.
Your podcast's RSS feed is what podcast apps and the major podcast directories (like Apple Podcasts and Spotify) will use to automatically get the audio, information, and podcast artwork from your new episode and display them in their apps or websites.
4 Reasons Why People Love Them
The global podcasting market size is estimated to reach USD 94.88 billion by 2028 and we can't get enough of our favorite shows. Why? Let me explain the 4 main reasons why podcasting is so popular in this post. Podcasts are extremely popular. And becoming more so.
Around 250,00 podcasts are published every week with 48 million active episodes! – These numbers are crazy! And they are just growing every year.
It's not surprising that a growing number of businesses, influencers, content creators, and NGOs have decided to create a podcast. A podcast worth listening to is great at raising awareness of your brand and connecting with your audience. You can create deeper engagement than through Facebook groups or other social channels. Many big businesses are now using them as part of their marketing tactics.
But ever wonder just why podcasts are so popular? Here, I dive into how podcasts became so popular and give you 4 reasons why people listen to so many!
Starting a podcast on a budget is definitely possible, and the cost can vary depending on what equipment and software you choose to use. However, the least you can spend to start a podcast is around $50-$100.
To start a podcast, you will need a few essential items such as a microphone and a recording device. You can find affordable microphones for as little as $20. As for recording devices, you can use your smartphone or computer to record your podcast.
In addition to these essential items, you will also need a hosting platform to distribute your podcast. There are many free hosting platforms or plans available, such as Spotify for Podcasters PodBean or Buzzsprout.
Overall, starting a podcast on a budget requires some creativity and resourcefulness, but it can be done. By investing in affordable podcast starter kit and podcast maker, and utilizing free hosting platforms, you can create a successful podcast without spending a lot of money.
Niall Mackay discusses how to record a podcast on a budget. He shares his journey of starting his first podcast with a 2010 MacBook Pro, free software, and a $100 Blue Yeti USB mic, and how he was able to grow it to reach an audience around the world. Brian Biedenbach from Summit City Studios and the host of Good Podcasting interviews Niall and they discuss their experiences starting and growing their own shows, their approach to interviewing guests, and the challenges they faced while producing their podcast. Listen to this episode to learn tips and tricks for recording a great podcast without breaking the bank.
Subscribe to Smarter Podcasting for more tips on how to create, build and grow your podcast!
Blog vs a podcast – Which one would be an excellent option for your small business, and what are the differences?
You have a great business idea, and you're ready to invest in blogs or start a podcast. Which one would be more beneficial for the specific audience of your business? And future audience? To start a podcast or a blog, both take a significant amount of time to create and publish! I'll explain whether blogs vs podcasts are best for your business in this post to help you start a podcast.
If you have a podcast or you are still waiting to record your first podcast episode, try these tips for great podcast audience engagement, making it more conversational and engaging so people listen!
A podcast is the best medium to show how authentic or passionate you are about your niche. You need to make a great first impression.
The competition is getting harder every day as more people start their first podcasts and companies are expanding their podcast directories with new podcasts too. What should you do to make your podcast stand out and turn your target audience into an engaged audience?
Choosing a particular niche for your podcast is an important decision as it determines the focus of your podcast, attracting and retaining potential listeners. Before you even start podcasting you should choose your niche.
In this post I share 5 steps you can take to choose a podcast theme:
Identify your interests and passions
Research the competition
Consider your audience
Evaluate the market
Test your idea
Ultimately, choosing a podcast topic requires a balance of your interests, audience needs, and market demand. It may take some experimentation and trial and error to find the right fit, but with dedication and effort, you can create a great podcast and attract new listeners.
WARNING: Do not create a podcast about anything and everything.
This is one of the most common traps that new podcast hosts fall into when they want to start a podcast. As you can see from the podcast title above your podcast name won't stand out on podcast platforms and the idea itself is unoriginal. Even someone with name recognition wouldn't start a podcast about anything and everything.
If you think of any well-known podcast the podcast content is about a very specific topic or premise. No good podcast is about "anything and everything" and I cringe when I see this as the podcast description on Apple Podcasts or other podcast platforms. When I was recently coaching a client on how to start a podcast they uttered those dreaded words… "it's going to be about anything and everything."
As you can see from my response, my immediate advice was to find a specific podcast topic and stick to it. Consistency in everything you do is key when you start a podcast. (Especially your publishing schedule). Thankfully the client trusted my advice and has since then chosen a specific podcast topic that she is passionate to talk about and started her first episode soon after.
Show Format
A podcast format refers to the structure and style of podcasts. The podcast format typically includes the episode length, frequency, and content of the podcast, as well as how it is presented. Some common podcast formats include:
Interview
Narrative storytelling
Panel discussion
Solo host
News and current events
Educational or instructional
These are just a few examples of the many podcast formats that exist. Ultimately, the format of a podcast episode will depend on the goals, style, and content of the show, as well as the preferences of the host and listeners.
How to choose a podcast format.
Determine your podcast's focus.
Identify your target audience
Consider your strengths and limitations
Research other podcasts
Experiment
Evergreen Content
Evergreen content is content that remains relevant and useful to readers over a long period of time, often for years or even decades. This type of content typically provides information or insights that are timeless and not tied to any specific news event or trend.
The term "evergreen" comes from the fact that these types of content remain fresh and "green" all year round, just like evergreen trees that retain their leaves even in the depths of winter.
Evergreen content is important for publishers and content creators because it can continue to drive traffic to their website or platform long after it is published, helping to establish the website or brand as a trusted source of information in its niche.
Evergreen podcast content refers to episodes that are not tied to a specific date or current event, and are instead designed to be relevant and useful to listeners for an extended period of time. These episodes are "evergreen" in the sense that they remain fresh and interesting even if listened to months or years after their original release date.
I use this to great effect in A Vietnam Podcast where I make sure as host and producer that there are no distinguishing features so episodes can listen to it years after they were published and the content is still as accessible and relevant.
Because of this and my growing back catalog, I get more downloads of my past episodes than newly released ones. This has helped A Vietnam Podcast become one of the most popular podcasts in Vietnam and also listened to across the world.
Examples of evergreen podcast content could include:
Interviews with experts on a particular topic or industry
How-to guides on a specific skill or hobby
Personal stories or anecdotes that explore universal themes or experiences
Book reviews or discussions of classic literature
The educational content on history, science, or other subjects that are not likely to change significantly over time.
By creating evergreen podcast content, podcasters can build a library of episodes that can continue to attract new listeners and provide value over time, without being limited to the timeliness or relevance of current events.
Presenting Style
Alright, you started your spectacular podcast, and you've got all the passion for it. – Great! However, no one tunes in aside from your closest friends and family. Not that great…
Solo podcasts are easy to start, and they can do very well for a passionate podcast host! However, even the most passionate podcasters have a difficult time improving their solo podcasts! Try these 5 tips and step-up your solo podcast game!
If you wonder how to improve your solo podcast, try to follow these easy steps to increase your listenership.
Solo podcasts are easy to set up as podcast hosts but difficult to keep interesting! When only one person is speaking, all of a sudden every tidbit of the podcast episode starts to matter to the listener. – Tone of voice, pacing, storyline, introduction, and podcast structure.
Among the thousands of shows with one podcast host, these 5 best solo podcast hosts stand out for their charisma, stories, and niche. It's time to give them a try and learn from their style.
Name
Choosing the perfect podcast name can be a fun and creative process, but it can also be challenging. Here are some tips to help a new podcast host choose the name of their show:
Be descriptive: The name should give listeners an idea of what your podcast is about. It should be descriptive and clear. Avoid using vague or generic names that don't provide any context.
Keep it short and memorable: A short and memorable name is more likely to stick in the minds of your listeners. Aim for a name that is no more than three or four words.
Make it unique: Your name should stand out from other shows in your niche. Avoid using names that are too similar to other shows or that could be confused with other brands.
Brainstorm: Make a list of keywords and phrases that relate to your podcast's topic or theme. Use these as a starting point for brainstorming potential names. Consider using puns, alliteration, or other creative techniques to make your podcast name more memorable.
Get feedback: Once you have a few potential names, get feedback from friends, family, or other podcasters. Ask them which names they like best and why. Consider conducting a poll or survey to get a wider range of feedback.
Check availability: Before you finalize your podcast name, make sure it is available as a domain name and on social media platforms. You don't want to choose a name only to find out that it's already taken.
Remember, your podcast name is an important part of your brand and can help attract new listeners. Take your time, be creative, and choose a name that reflects your podcast's personality and content.
Cover Art
Choosing the right cover art is important because it's often the first thing potential listeners will see when browsing for new shows. Here are some tips to help you choose the right cover art:
Keep it simple: It should be eye-catching and easy to read in a small size. Avoid using too many colors, fonts, or images that might make it difficult to read or too cluttered.
Represent your podcast: It should give potential listeners an idea of what your podcast is about. Use images or graphics that are related to your podcast's topic or theme.
Consider branding: Your podcast artwork should be consistent with your brand, including any logos or color schemes you use on your website or social media channels.
Get feedback: Show it to a few people and get their feedback. Ask them if it accurately represents your podcast and if it stands out among other podcasts in your genre.
Make it high-quality: Your podcast cover art should be high-resolution and look good on all devices. Consider hiring a graphic designer to create your cover art if you don't have design experience.
Remember that your podcast artwork will be the face of your podcast, so take the time to create something that accurately represents your show and will grab the attention of potential listeners.
Music
Choosing the right music is an important decision because it can set the tone and mood for your show, and help create a memorable experience for your listeners. Here are some steps you can follow to choose the right music:
Consider your show's genre and theme: Your podcast music should reflect the tone and theme of your show. For example, if you have a comedy podcast, you may want to choose music that is upbeat and lively, if it is serious or educational then you may benefit from more calming and thoughtful music.
Determine the mood you want to convey: Consider the emotions you want to evoke in your listeners. Do you want them to feel energized, relaxed, or thoughtful? Choose music that supports the mood you want to convey.
Listen to a variety of music: Listen to different types that match your show's genre and theme. You can explore music libraries and soundtracks or listen to royalty-free music websites to find the right track.
Keep in mind the duration of your intro and outro: Make sure that the music you choose is not too long or too short for your intro and outro. The music should complement the length of your show's opening and closing.
Consider licensing and copyright: Make sure that whatever you choose is royalty-free or that you have obtained the necessary permissions to use it.
Test your music: Listen to your chosen music alongside your content to see if it fits well with your show's overall vibe.
Overall, choosing podcast music should be a thoughtful process that takes into account your show's genre, theme, and emotions you want to convey.
If you would like a bespoke intro for your show get in touch! Our in-house sound engineer and music producer (and genius) Lewis Wright will create the perfect intro music for you!
When choosing a podcast hosting service, there are several factors to consider, including cost, storage space, ease of use, and distribution options. Here are some steps to help you choose the best hosting platform for your needs:
Determine your budget: A podcast hosting provider may offer free plans, while others charge a monthly or yearly fee. Consider how much you're willing to spend on hosting.
Consider uploads/storage allowed: Look for a hosting platform that offers enough uploads or storage before you post your first episode. Some like Castos offer unlimited uploads/storage, plans with Transistor start at 20,000 downloads a month and Buzzsprout's free plan starts at just 2 hours of uploads per month. You don't want to run out of space for your audio files mid-season and incur unexpected costs.
Check the ease of use: Choose a podcast platform that is easy to use and offers a user-friendly interface. This will make it easier for you to upload, edit, and manage.
Look for distribution options: Consider a hosting platform that offers distribution to major podcast directories such as Apple Podcasts, Spotify, and Google Podcasts. This will help you reach a wider audience.
Check for analytics: Look for a platform that provides detailed analytics to help you understand your audience and track your podcast's performance.
Read reviews: Check online reviews and ratings to get an idea of the platform's reliability and user satisfaction.
Some popular hosting platforms include Buzzsprout, Libsyn, Transistor, Anchor, and Podbean. Consider these factors carefully and compare different platforms before making your decision.
Seven Million Bikes Podcasts has been using Buzzsprout as a podcast hosting platform since we began and we 100% recommend this platform for its ease of use, statistics, monetization options, and ongoing support for podcasters.
As intimidating as it may sound, having no existing audience on your podcast is how every podcast starts. Starting a podcast is like starting a business. You have to understand your expertise, offer, and audience who will "buy" into your stories.
If you don't have business experience, don't worry. In this post, I'll unfold simple tips on how to start a podcast with no audience and reveal what your podcast show might be missing that leads to 0 listeners.
Are you ready to take your show to the next level? Let's set up your ideal podcast studio to record audio that sounds great following these tips!
An excellent podcast studio design will help you retain your audience. How? Your studio will add to your aesthetic. Plus, if done well, it will improve the quality of your recording.
But what equipment exactly do you need for a podcast studio? This post includes beginner-friendly tips to level up your podcast set-up and the equipment required before you invest your time and money in it.
Besides your unique voice, good music, the answer lies in the power of well-crafted podcast logos. As the saying goes, "A picture is worth a thousand words," and in this case, it can be the key to capturing the attention and curiosity of potential listeners.
Attractive podcast logos serve as the visual front door to your show, setting the tone and conveying your brand's identity. But designing an eye-catching logo that effectively represents your podcast can be a challenging task.
Whether you choose to use online logo makers, hire a designer, or take the DIY route, ensure that your logo is versatile, scalable, and legible across various platforms.
Let's just review what podcast equipment a podcaster needs for a successful recording: a microphone, a nice set-up, and sometimes, a friendly voice, too.
Just so that we don't relive a miserable X-factor audition right in our ears. One common thing that we see on high-quality shows is those vast headphones. One shall ask, almost instantly:
Why on earth do you need to wear those gigantic ear covers just for the sake of recording an interview?! Why do podcasters wear headphones in the first place? And how does wearing a pair of headphones save your entire recording? Let's find out!
If you are thinking of starting a podcast, you need a microphone meant for podcasts. The best podcast microphone is not just any microphone. It offers you the best directional capabilities, and you get to have better design and durability.
We believe that quality audio comes before quality content. You have a very, very short time to make a good impression on a listener. If you are asking them to give you their time you should give them good-quality audio in return.
You will lose your listeners in the first 5 seconds if they tune in only to hear amateur, lazy audio that sounds like it's been recorded on an iPhone in your front room. Why waste an hour making quality content with sub-standard audio?
We'll share our tips for the 3 Best podcasting microphones for 2022. If you are just starting your podcast or new to microphones, we recommend you go for one of these depending on your budget. These are easy to use and will provide you with decent features so you can start your podcast journey.
Here are our recommendations for the best podcast microphones for great audio.
Recording remotely can be done using a variety of methods depending on your needs and the podcast equipment you have available. Most people are already familiar with the recording software Zoom but there are even more available that give great audio quality and HD video format such as Riverside.fm.
Here are some common ways to record remotely:
Recording software: You can use Skype, Squadcast, or Zoom to remote record and connect with your co-hosts or guests for your podcast. Most of these platforms allow you to record audio and video of the conversation; some even offer separate audio tracks for each participant to make editing easier.
Recording hardware: Use an external audio recording device to connect with your co-hosts or guests for the best audio quality. You should use headphones to prevent echo or feedback and ask your guests to use a quiet room with minimal background noise. You can then record the host and podcast guests separately and sync the audio tracks in post-production. Several remote recording tools like Zencastr, Cleanfeed, or Riverside allow you to record high-quality audio from different locations. This podcast software offers separate audio tracks for each participant and automatic backup of your files.
Regardless of the method you choose, make sure to test your setup before recording to ensure everything is working correctly.
I started my first podcast, A Vietnam Podcast, with great enthusiasm and passion for sharing knowledge and connecting with other people. But as I invested deeper into the world of podcasting, I realized that there was an opportunity to turn my passion into a source of income. The idea of doing what I love and earning a living from it became an enticing prospect.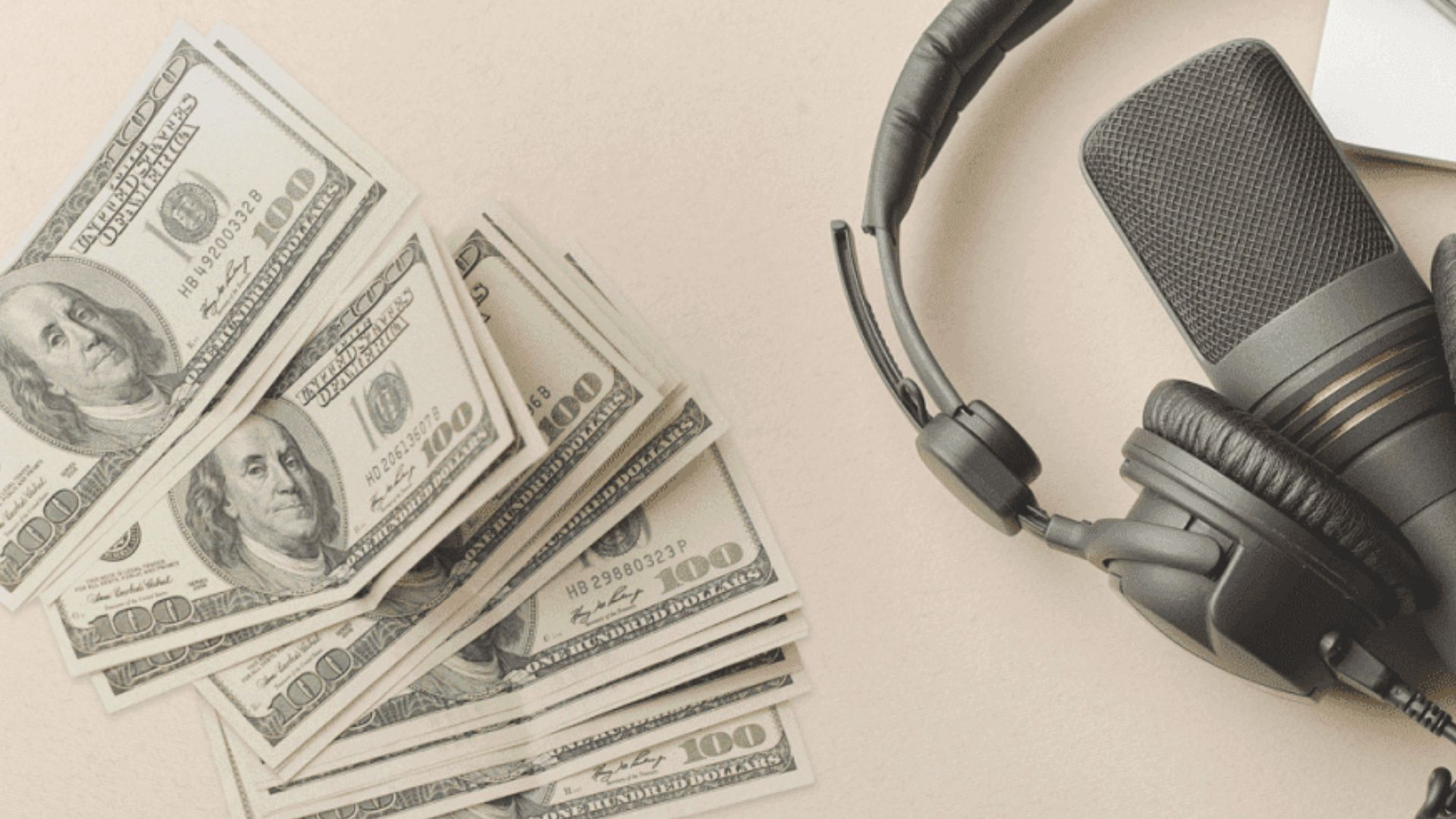 By analyzing your audience and the podcast's popularity, you can make informed decisions about which monetization method(s) align best with your podcast's goals, listeners, and content.
3. How to start a podcast: After Recording
Find out how much money podcast editors make, beginner podcast editor rates, and what skills a podcast editor needs to succeed in the industry. Are you looking for a new gig? Perhaps, ready to change your career and dive into the world of podcasting. Being a podcast editor is a lucrative job if done well. Read on to find out everything you need to know about becoming a successful podcast editor.
Podcast Editing
Podcast editing involves reviewing and revising the substance or material of a podcast episode to ensure that it is engaging, informative, and cohesive. This process includes editing the content, such as the podcast script, the pacing, the tone, the flow, and the overall structure.
During content editing, the editor will listen to the episode and identify areas that require improvement. This could include removing repetitive or unnecessary information, clarifying confusing or ambiguous statements, adding more context or depth to certain points, or reordering segments to improve the flow of the episode.
The goal of content editing is to enhance the quality and clarity of the podcast episode and ensure that it meets the expectations of the audience. A well-edited podcast episode can help to attract and retain listeners, increase engagement, and ultimately grow the audience for the podcast.
Distraction Editing
Distraction editing is a technique used in podcast editing to remove distractions or unwanted elements from the recording.
In podcasting, distractions can come in different forms, such as background noise, verbal fillers (like "um" and "ah"), or interruptions. Distraction editing involves removing or minimizing these elements to make the podcast more polished and engaging for the listener.
For example, if a guest speaker coughs during an interview, the distraction editor would cut out that section of the audio. Similarly, if a host uses a verbal filler, the editor might remove or minimize that section to make the conversation flow more smoothly.
Distraction editing is a crucial step in the podcast production process, as it can significantly improve the overall quality of the podcast and make it more enjoyable for listeners.
What is a DAW?
A DAW (Digital Audio Workstation) is the editing software used for recording, editing, and producing audio content. While DAWs are often used in music production, they can also be used for audio editing.
There are many DAWs available, both paid and free, that is suitable editing software. Some popular options include:
Descript – a simple, powerful, and fun way to edit. You edit your podcast like a doc. The free plan gives you 1 hour of transcription a month with the Creator Plan only $12 a month.
Audacity – a free and open-source DAW that is easy to use and has many features for recording, editing, and mixing audio.
Reaper – a full-featured DAW with a 60-day free trial, Reaper is highly customizable and has a large community of users.
Hindenburg Journalist – a DAW designed specifically for journalists and podcasters, Hindenburg has a streamlined interface and features like automatic leveling and noise reduction.
Adobe Audition – part of the Adobe Creative Cloud suite of software, Audition is a powerful DAW with a wide range of features for audio production.
Ultimately, the best DAW will depend on your individual needs and preferences. Some key factors to consider include ease of use, cost, and the specific features and capabilities that you require for your production workflow.
Seven Million Bikes Podcasts recommends Descript for its ease of use and price. Whether you are a new podcaster or an experienced pro, Descript makes podcasting fun and easy.
How to edit With Descript
A podcast is an incredibly powerful medium that can help you share your passions, reach new customers, or grow your business, and while they are relatively easy to start, it is difficult to grow an audience and maintain consistency. Most though don't make it until the 7th episode! Known as podfade.
If you've ever tried to edit a podcast yourself, you know how difficult it can be. Even if you already have any editing skills, it can still be difficult to create a professional-quality audio recording from scratch. That's where Descript comes in: with its AI transcription technology, it can automatically generate transcripts from any audio file so that you can edit the audio as a doc and easily edit the podcast.
I previously used GarageBand, which while great for editing and free on Macs, was time-consuming and laborious. I started editing each episode with Descript in 2021 and it has never been easier or more fun.
Once you're finished editing you can publish the finished episode on the web or directly to hosts like Buzzsprout. So, whether you're already working with another transcription tool or editing software, you're a beginner and just want some extra help getting started, or simply want more time to focus on other aspects of your business and life, creating podcasts in Descript is the quickest and easiest.
You only got 10 seconds to convince your listeners to stay on your podcast. How do you do that? The answer lies in your podcast intro. The time is tight, listeners are impatient, and they KNOW when and how to bounce to the next show.
You don't want them to do that, do you? Plan and write your podcast introduction using these tips and free templates! Let your audience sit back and enjoy your show.
Podcast show notes are essential and hugely underrated. Have you ever seen new podcasters skipping show notes or writing a 5000-word essay under the show note section that scares listeners?
Whether you are falling into one or the other, it is not your fault. I've been through the same thing in the past three years of my podcasting journey. However, these dos and don'ts tips accelerated my writing and helped me engage listeners.
Are you tired of looking for different podcasting answers on five other websites, eight different subreddit pages, and 3 Facebook community groups? Yeah, I've been there too.
Sometimes having one great book with ALL the answers to all your questions is a miracle. Here are the best podcasting books that take your show from 1 to 2. Are you having trouble with technical setups? Are you a business that wants to scale its marketing channels? I got the best recommendations for that too. Choose your favorite in these five best books on podcasting, then email me to let me know which one helped the best.
You got 3 random letters that can help your show appear quicker on search?! WHAT IS THIS? MAGIC?! No, it is better than that. You don't have to be born with magical powers to do this, you just have to have some logical thinking and you're good to go.
Podcast SEO is still new in the podcasters community and I'm here to fill in this gap between SEO and podcasting. Little did you know that these small tweaks can help your podcast show rank higher on search engines and turn random visitors into your listeners. Let's dive into what podcast SEO is and how to do justice for your podcast show whether or not you have a website.
What is podcast SEO and why does it matter for all beginner podcasters? Let's fill in the gap between search engine optimization and podcasting to turn strangers into your listeners!
Podcast networks bring great potential to grow and monetize your podcast show. A podcast network is a collection of podcast shows available for advertisers through a single company or network to promote products or services.
Think of it as the Amazon of podcasters, where a single company (the podcast network) collects and advertises podcast shows for more listeners. In exchange, advertisers can buy ads on popular podcast episodes. If you wonder when and why you should join one, keep reading!
Two-thirds of Americans regularly listen to free on-demand podcasts in any niche. So, how do podcasts make money? Whether you're looking to create your own podcast on a private hosting service or work under a podcasting network, let's see how to get money from podcast views with these seven podcast monetization methods.
How to monetize a podcast is one of the most common questions asked by podcast hosts, even before starting a podcast, how do I make money podcasting? Is it just podcast sponsorship? Or offering paid content?
Regular folks like you and me, you'll first need to build a community of listeners by:
Making your podcast available on distribution platforms such as Spotify and Apple Podcasts.
Releasing podcast episodes consistently.
Sharing to people and promote podcast on social media.
Once you have a podcast audience, you can start earning with the following podcast monetization strategies.
No matter how big or small your podcast audience is, whether you are an independent podcaster or working for a professional company, in this blog post I share some of the podcast monetization strategies that I've used and some that I've not, that can work for you. There are many more ways than just podcast sponsorship to monetize a podcast.
4. Extras
Have a hard time finding the best gift for your podcaster friend? Podcasting is amazing. You and I are both listening to at least one show. Podcasting is super popular as it helps us learn new things and listen to entertaining stories.
Since podcasting is easy to start, there is a high chance that one of your friends or family members is thinking of starting their own podcast show! Believe me, as a podcast host, these budget and kickass gifts for podcasters will bring a smile to your podcaster friend's face.
Podcasting has been revolutionized with the integration of AI technologies. Podcasters can now save time and produce better content with the help of AI tools.
AI can be used to enhance audio quality, generate show notes, and provide personalized content recommendations.
However, AI tools should not replace human creativity or authenticity, and it's vital to strike a balance between using these tools effectively and making content unique.
By understanding and analyzing your metrics, you can learn about your audience and create high-quality content that they'll love.
But, while tracking podcast analytics is important, but it should not take away from creating that compelling content.
Examples of podcasts like Serial and How I Built This have used analytics to boost their show. Even small independent podcasts can benefit from tracking metrics.