Podcasts have greatly improved the way stories are told and information is shared. Yet, the challenge lies in reaching your target audience effectively. This is where Instagram, a social media platform that focuses on photos, videos, and mobile devices, shines.
I'm Niall Mackay, "The Podcast Guy". Founder of Seven Million Bikes Podcasts and a podcast host. Today, podcasters use Instagram to showcase their audio content visually. In this blog post, I'll explain how to share your podcast on Instagram, allowing you to engage and connect with your audience in new ways.
It began as a basic photo-sharing app with creative filters in 2010. It became a multidimensional visual storytelling hub with appealing images and short messaging over time.
When Facebook bought Instagram in 2012, it was one of the most significant events in its history. Instagram became a social media giant because of this strategic approach that enables cross-platform integration and worldwide development.
Progress and Podcasts on Instagram
Instagram's development from a photo-sharing platform to a multimedia giant has been extraordinary. The platform has changed digital media consumption and audience preferences. Instagram has grown to include more media kinds, making it ideal for podcast promotion.
Instagram was primarily about sharing innovative images. The platform quickly adopted videos, allowing users to publish short films and adding Stories, IGTV, and Reels. This adjustment showed Instagram's openness to accommodate several media forms, which podcasters may use.
Despite these improvements, Instagram lacks a "share your podcast episode" function. However, you may still promote your podcast on this social media platform.
Instagram's multimedia lets podcasters be creative. Audiograms or video clips of episode highlights can encourage listeners to listen to the entire podcast episode.
The lack of "share your podcast episode" feature shouldn't stop you; it allows you to be creative for podcast promotion. You can reach new audiences on Instagram by using its massive user base and eye-catching design to make your podcast stand out. Instagram can draw listeners and build community around your podcast with the correct methods and content.
Steps to Share a Podcast on Instagram
Sharing your podcast on Instagram is a great way to get the audience interest. To get the most out of this innovative platform, follow these steps: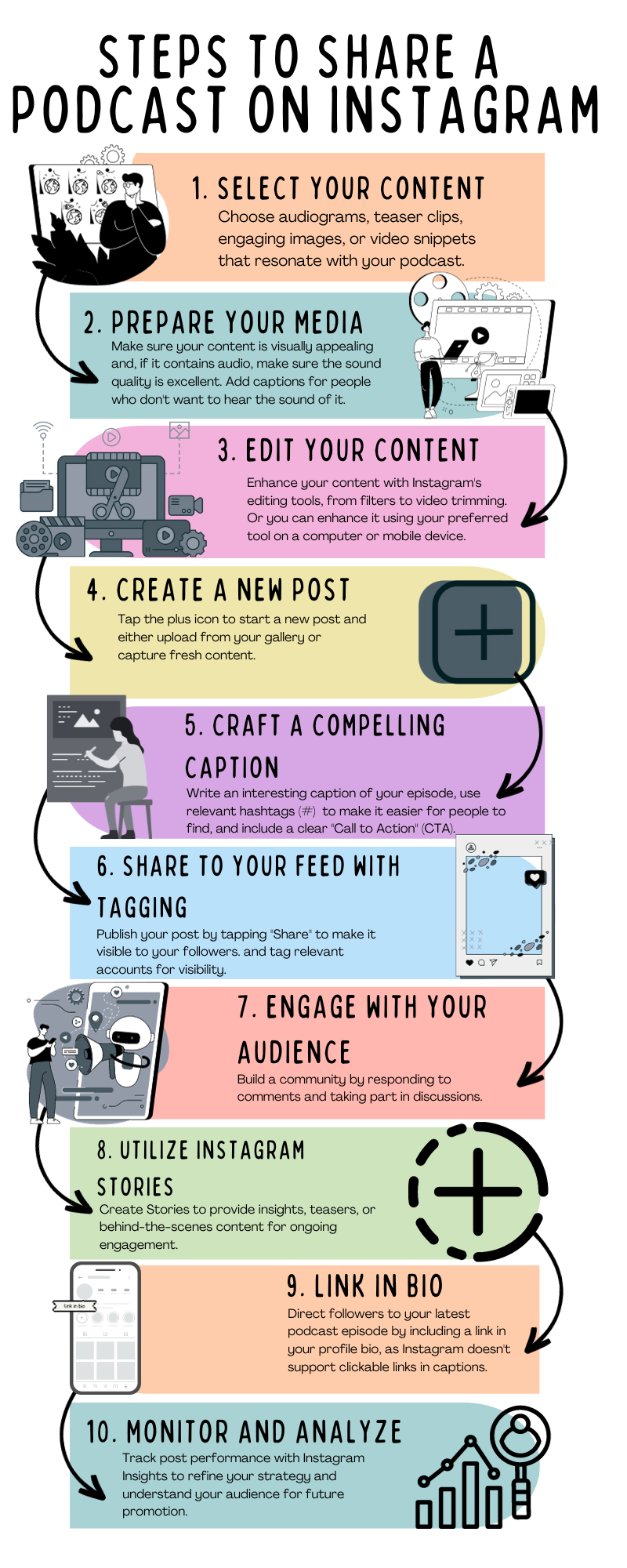 By following these steps, you can also share clips from your podcast on Instagram, using its visual appeal and large user base to expand your audience and engage with content.
Select An Audio Snippet from Your Podcast
When sharing upcoming episodes of your podcast on Instagram, one of the key steps is selecting an "audio snippet" from your episode. Here's how to choose the right snippet and prepare it for your Instagram audience:
Understand Instagram's Video Requirements
Instagram primarily focuses on visual content, especially videos. You must convert a podcast audio clip into a video to share it. Instagram requires videos to be 15 seconds long for Stories and 60 seconds for feed posts, with a preferred aspect ratio of 1:1 or 4:5. To make your content seem attractive and work on the platform, you must understand these basic requirements.
Choose an Engaging Segment
Choose an engaging part of your podcast episode. This might be a podcast recap, thought-provoking comment, hilarious anecdote, or lively interview extract. Make your audience stop scrolling and want to listen.
Edit and Enhance the Audio
Before turning your audio snippet into a video, edit and enhance it. Audio editing software can remove background noise, change volume, and improve audio quality.
Audio quality is important even in video.
Create a Video
You must convert your audio clip into a video. Mobile and desktop video editing programs may mix your voice with a relevant graphic element. It might be a static graphic, a waveform animation of the audio, or subtitles to make your story or podcast more accessible.
I highly recommend Descript for editing audio and video for podcasts.
Add Visual Engagement
Add text or subtitles to your own audio podcast clip to draw in wider audience. Make your podcast more recognized with visually attractive fonts and visual elements that complement your identity.
Optimize for Mobile
Remember that Instagram is mobile-first platform. Make sure your video posts looks beautiful and is mobile-friendly. Test it on several screen sizes to ensure text and graphics are visible.
Stay within Instagram's Time Limit
Instagram has limitations on time for different posts. Video posts should be 60 seconds or less. Stories allow 15 seconds per slide. Be short and highlight your audio's most significant part.
Instagram story now has limitations on time for different posts. Instagram feed posts for video should be 60 seconds or less. Instagram Stories allow 15 seconds per slide. Be short and highlight your podcast episodes most significant part.
Create an Audiogram Videos
Podcast marketing on Instagram is effective with an "audiogram". Social media users can share interesting audio podcast clips by using this visual-audio combo. Create an effective audiogram:
Components of an Audiogram: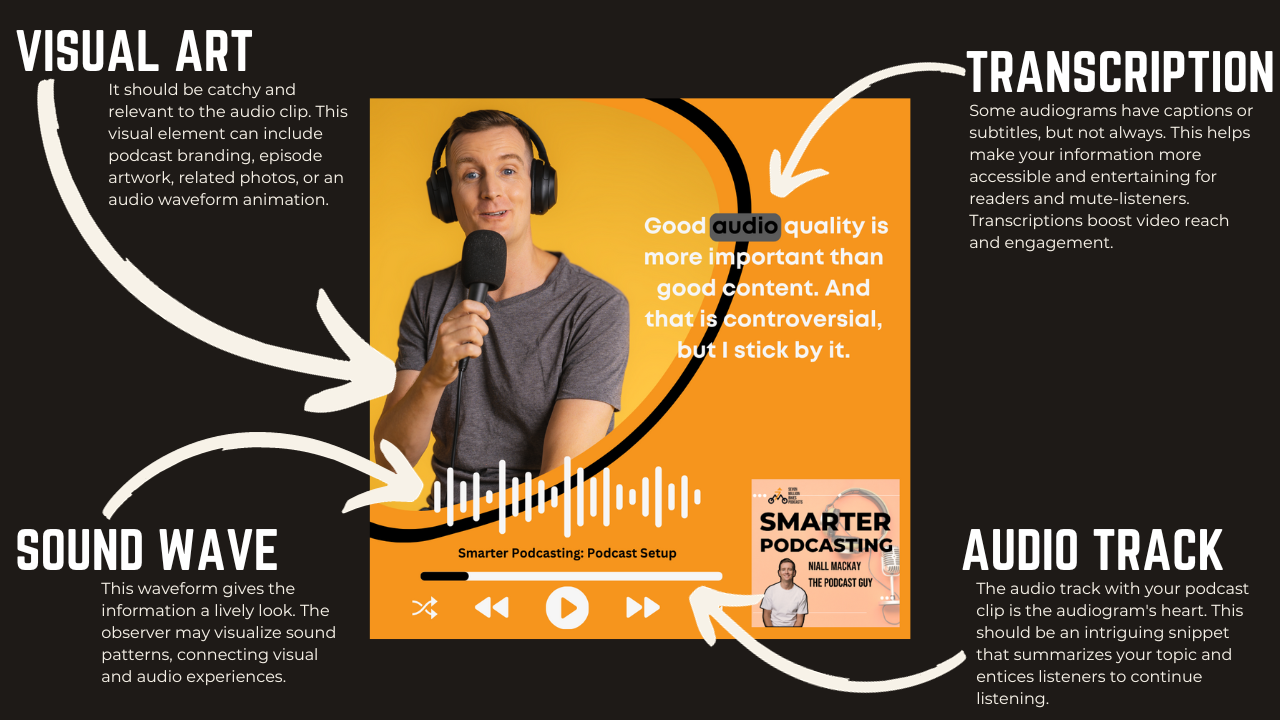 Paid Audiogram App Options:
There are a number of specialized tools for making audiograms, and each one has its own features and benefits. Here are some of these paid options:
Wavve: Wavve is a popular audiogram app known for its user-friendly interface. It allows you to upload your podcast audio, select a snippet, add visuals, and generate stunning audiograms. Wavve offers various customization options and templates to align with your podcast's branding.
Audiogram: Audiogram is a specialized tool designed specifically for creating audiograms. It simplifies the process with intuitive controls for adding visuals and sound waves to your audio clips. You can customize the design to match your podcast's style.
Headliner: Headliner is another fantastic option that offers a range of templates and tools for creating eye-catching audiograms. It provides features like automated transcription and easy sharing to various social media platforms, including Instagram.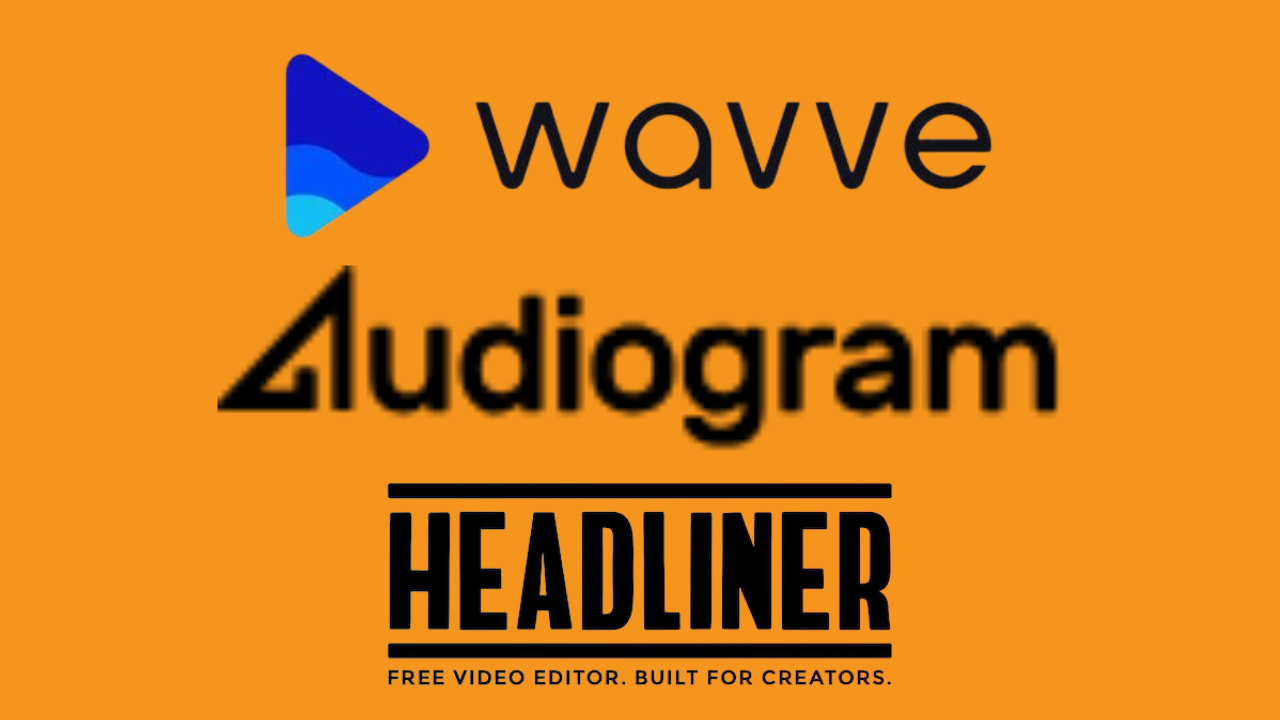 Podcasters can use these apps to make professional and interesting audiograms that they can share on Instagram and other social media sites to promote their shows. Using audiograms can help your podcast get more attention, bring in new listeners, and keep existing listeners interested.
Insert the Podcast Link In the Post
Including a direct link to your podcast in your Instagram post is a crucial step in the process of sharing your podcast. Here's why it's essential and some tips for making it effective:
Importance of Including the Podcast Link:
Accessibility
Instagram doesn't let clickable links be in comments or notes, but your personal bio does. By including a direct link in your post, you make it easy for people to listen to your podcast.
Convenience
Convenience is very important. By making it easy for people to access your podcast with just one click, you lower the bar for entry. It's more likely that people will actually listen to your content.
Trackable Engagement
You can keep track of how many people clicked through from your Instagram post by using a unique tracking link, like a "Bitly" link. This information helps you figure out the effectiveness of your Instagram marketing efforts and refine your strategy.
Engagement and Conversion
A direct link makes people want to take action right away. When people see an interesting audiogram and read an interesting caption, they can click through to your podcast and start listening right away. This increases the possibility that they will become loyal listeners.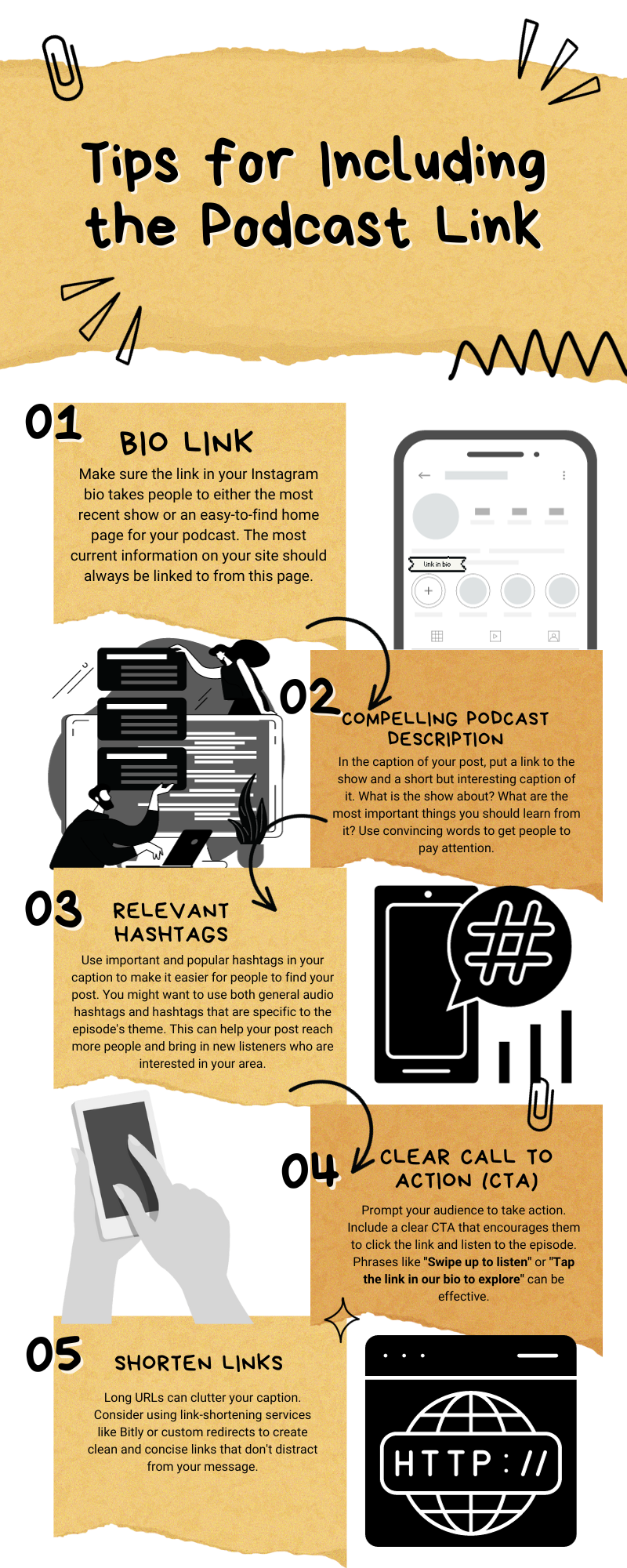 You can make your content easier to find and more interesting by adding a direct link of your podcast to your Instagram post, writing an interesting podcast description, and using relevant hashtags. By doing these things, you can make your Instagram podcast marketing much more effective, bringing in new viewers and keeping the ones you already have.
Experiment and Draw in New Listeners
Podcast promoting on Instagram isn't a one-size-fits-all process. You must experiment and adapt to gain new fans and listeners. Why this matters and how to do it:
Importance of Experimentation:
Audience Diversity
Instagram is a diverse platform with users from various backgrounds and interests. What works for one podcast may not work for another, so experimenting helps you discover the best strategies for your target audience.
Algorithm Changes
Instagram's algorithms are constantly evolving. What works today might not work tomorrow. Staying ahead of the curve requires staying open to experimentation and adapting to these changes.
Engagement Variation
Different types of content can lead to varying levels of engagement. By experimenting, you can identify the content formats that resonate most with your audience, ultimately driving higher engagement and attracting new listeners.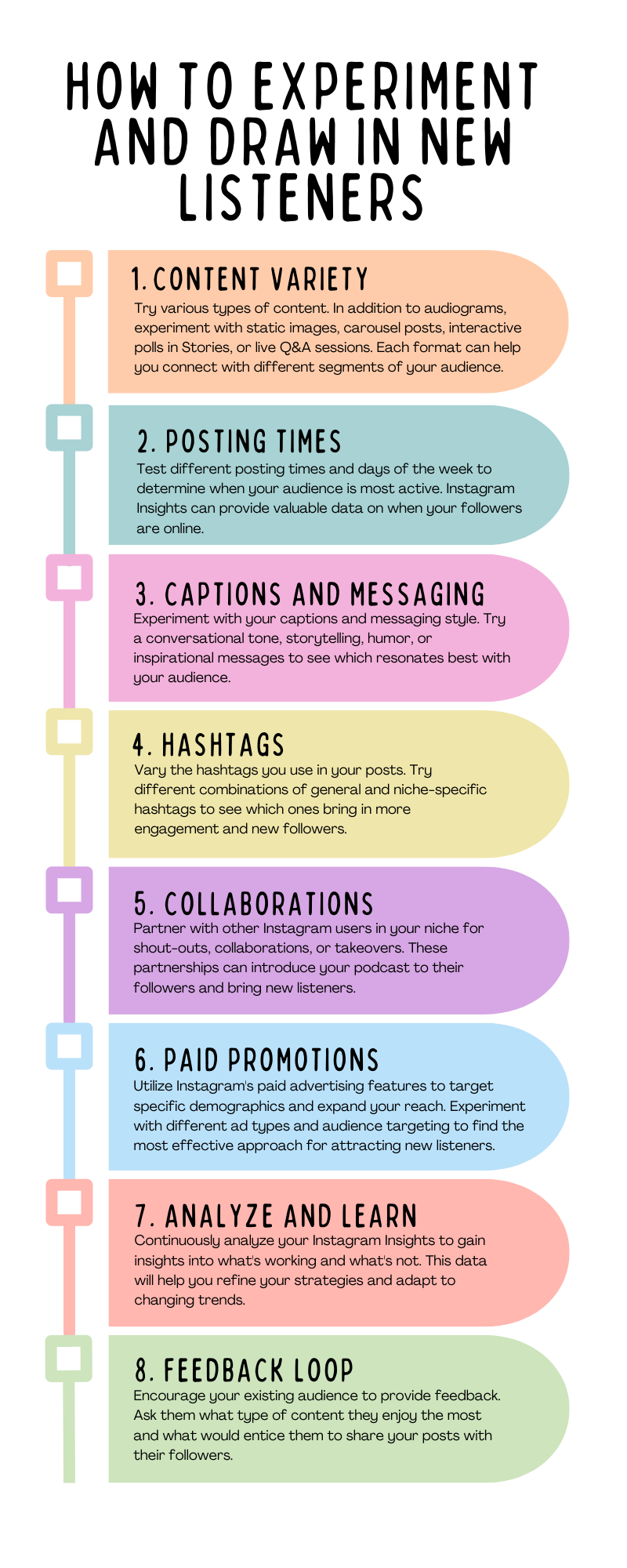 Remember that experimenting is different from tossing content at the wall. It requires measured risks and adaptability. Not every trial will succeed, but each might tell you what your audience likes. Staying flexible and open to new ideas can help you gain Instagram followers and listeners, expanding your podcast's reach and influence.
How to Share a Podcast on Instagram Wrap Up
Overall, if you want to share your podcast on Instagram, pick an interesting audio clip, know what Instagram's video rules are, make sure your material works well on mobile devices, and don't go over the time limit. You should also use the audiogram video as a secret tool. Using audiograms, detailed comments, and hashtags in a smart way can help you make an interesting Instagram post that gets people interested and wants them to click on the episode link.
You can make Instagram a lively stage for your podcast by combining strategy, creativity, and experimentation in the right way. This will help you get new listeners and build a loyal audience. Your next podcast episode might just be a scroll away.