As I reflect on my own podcasting ventures, I've come to realize that success in this field isn't just about having a great idea and hitting the record button. It's about acquiring the skills, knowledge, and strategies that can truly attract your podcast audience and make your podcast stand out from the crowd. That's why you need a good podcast course.
I'm Niall Mackay, The Podcast Guy – founder of Seven Million Bikes Podcasts.
In this blog post, I want to take you on a tour of the top courses available today, both paid and free podcasting courses. These courses are designed and curated by industry professionals, including yours truly, to help aspiring podcasters like you navigate the intricacies of this rapidly evolving medium.
Don't miss out on this opportunity to tap into the expertise of industry professionals and seasoned podcasters who have crafted these exceptional courses with one goal in mind: to help you succeed in the competitive podcasting landscape.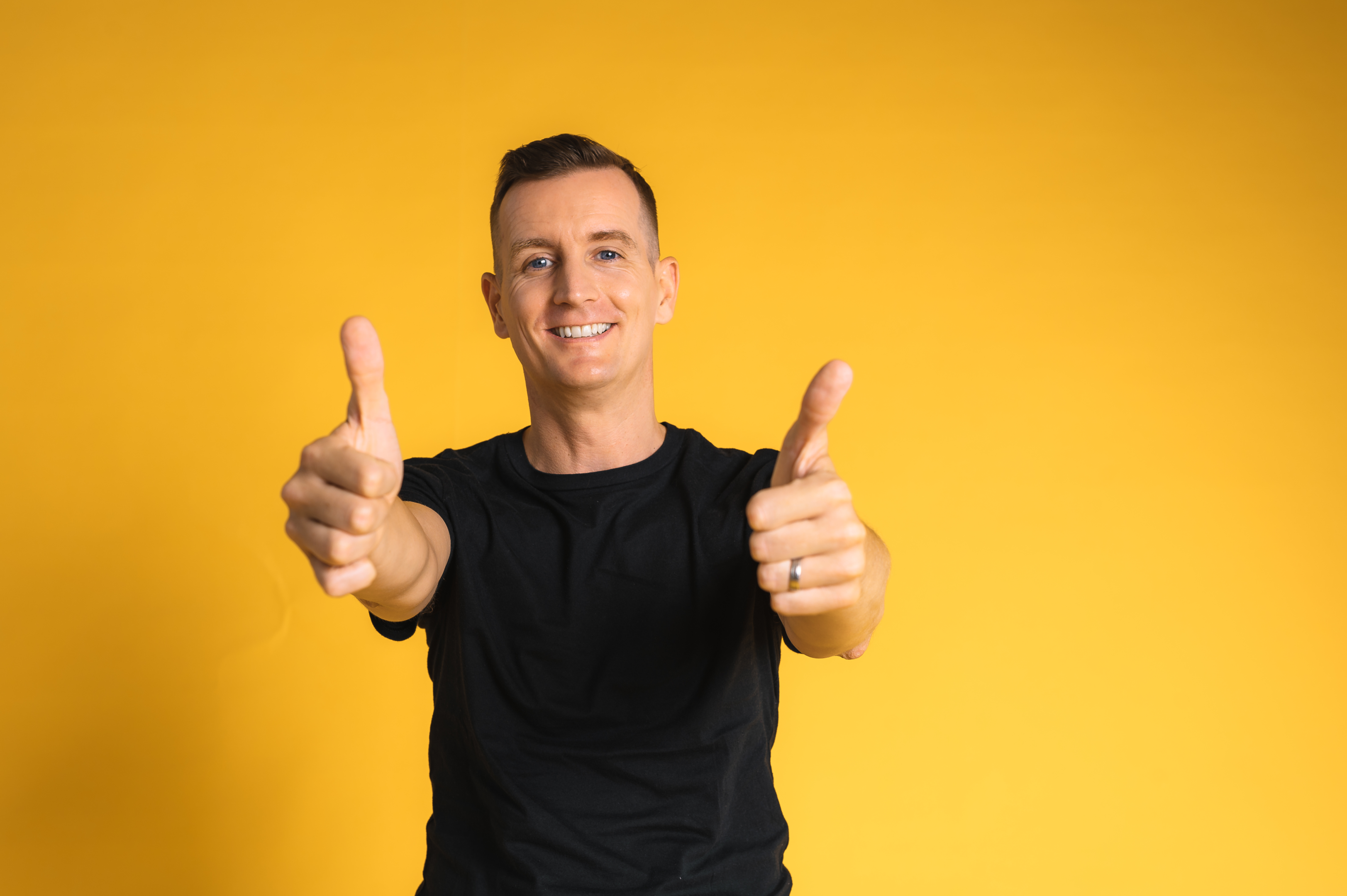 Why You Should Take Podcasting Courses
Gain Essential Skills and Knowledge
Podcast training courses offer structured and comprehensive learning experiences that cover all aspects of podcasting, from planning and recording to sound editing and promotion.
By enrolling in a podcasting course, you'll acquire the essential skills and knowledge needed to create high-quality audio content, ensuring that your podcast stands out from the crowd.
Learn from Experienced Podcasters
Courses are often taught by experienced podcast host/industry professional who has achieved success in the podcasting world. Their expertise and insights will provide you with invaluable guidance, practical tips, and best practices that can save you time and help you avoid common pitfalls.
Learning from those who have already navigated the challenges of podcasting can accelerate your learning curve and set you up for success.
Overcome Challenges and Build Confidence
For beginner podcasters, starting a podcast can present a range of challenges. From technical aspects such as podcast equipment setup, using editing software, audio production… there's a lot to navigate. However, taking a podcast course can help you overcome these hurdles with confidence.
A reputable course will address these challenges head-on, providing step-by-step guidance on selecting the right equipment, setting up a recording environment, and editing audio effectively. You'll learn how to craft engaging content, structure episodes, and develop your unique podcasting style.
Moreover, courses often cover strategies for promoting your podcast, growing your audience, and monetizing your show.
Join a Supportive Community
Many podcasting courses foster a sense of community among participants, providing opportunities to connect with fellow podcasters, share experiences, and receive feedback. Being part of a supportive community can be incredibly valuable, as you'll have a network of like-minded individuals who can offer support, collaboration opportunities, and constructive criticism.
This community aspect can enhance your learning experience and provide ongoing motivation and inspiration.
7 Best Podcasting Courses
This is my own podcast course, where I will guide you to become a podcast expert in just a week.
Instructor
Starting with A Saigon Podcast and expanding to A Vietnam Podcast, my show gained a dedicated global audience, placing it among the top 10% of podcasts worldwide. Building on this success, Seven Million Bikes Podcasts now collaborates with clients from Vietnam, the Netherlands, the UK, and the US to produce high-quality podcasts.
In my podcasting course, I will give you a complete guide and share all my experiences and tips for you to launch a podcast successfully.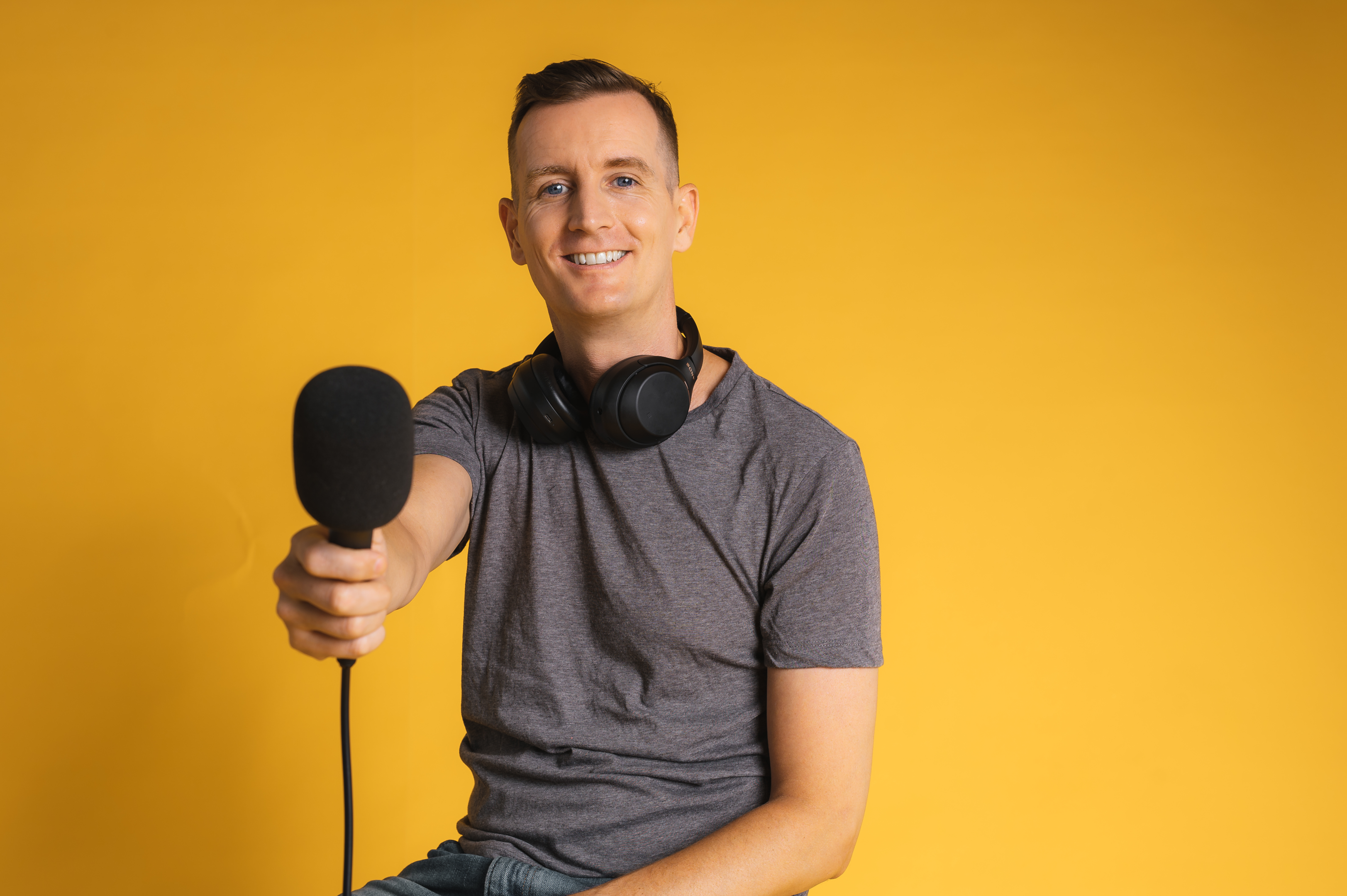 What You'll Get From My Course
You will get a podcast masterclass in 23 tutorials and over 3 hours of video content.
It's ideal for new podcasters as you can learn the basics of producing a podcast, from choosing the topic, format and to creating high-quality content.
For the advanced level, I will tell you all about audio editing, what podcast equipment to use, and modern digital marketing techniques, so your new podcast will build a loyal podcast audience.
The course also includes guidance on how to monetize a podcast and turn it into a profitable business.
Content: Podcast Topic Ideas, Audio Production, Podcast Insights, Production and Editing, and much more
Course Materials: Transcripts, PDFs, Quizzes
Free Resources: Guest Prep Form, Podcast Workbook, Template: show notes, intro, podcast script; Checklist: Workflow, Equipment, Software; Glossary, AI Tools For Podcasting
Besides the course, I also share my knowledge and experience in blog posts about how to start a podcast.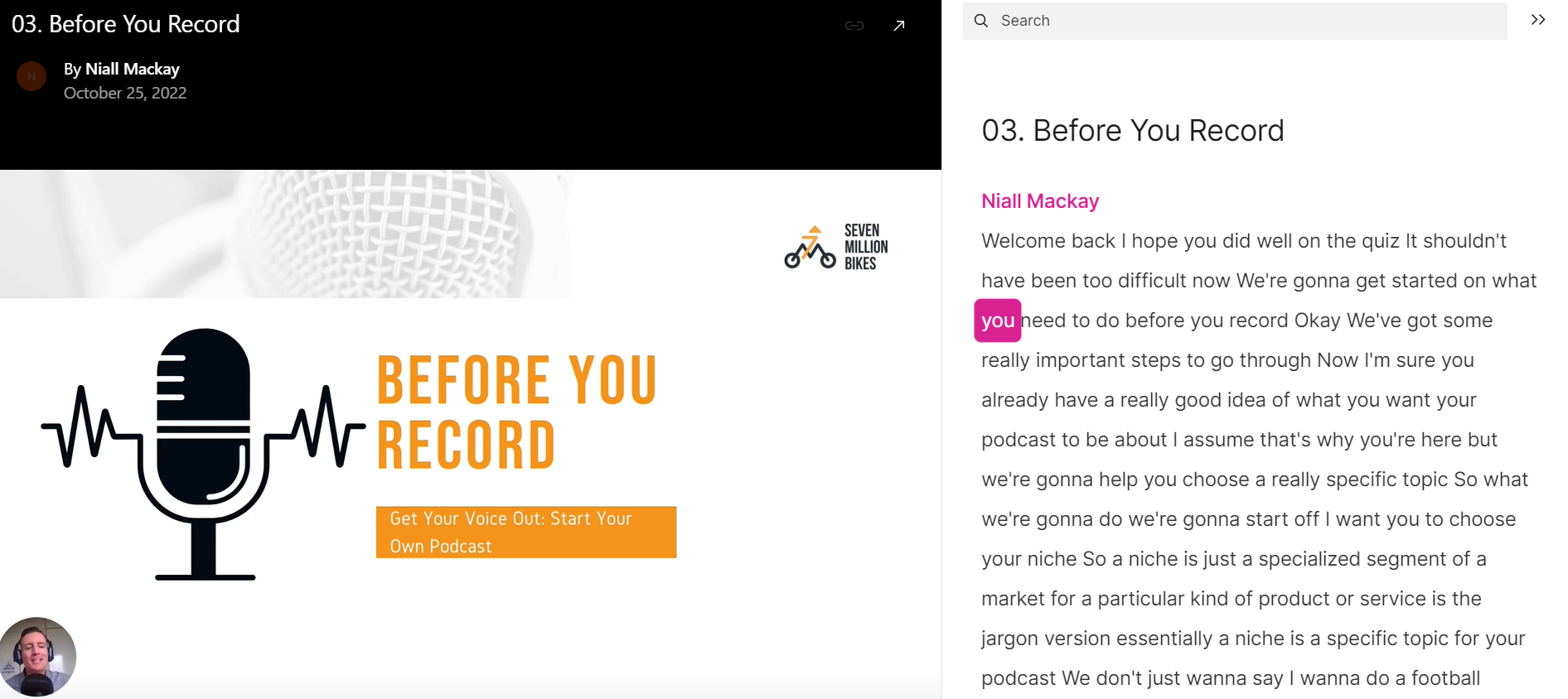 Price
With $97.00, you will have lifetime access to my course.
Buzzsprout's How to Start a Podcast Course
It's a free podcasting course provided by Buzzsprout– a popular podcast hosting and distribution platform. Beginners can benefit from this course as it will equip you with all the basics that you need to start a podcast.
Course content
The course includes many videos and blogs of 8 modules, covering everything from recording, and editing to launching your podcast episodes. These modules will address these questions:
recording podcast episodes with multiple participants.
submitting your podcast to popular podcast directories
choosing the right microphone
It also provides you with some tips about marketing, submitting…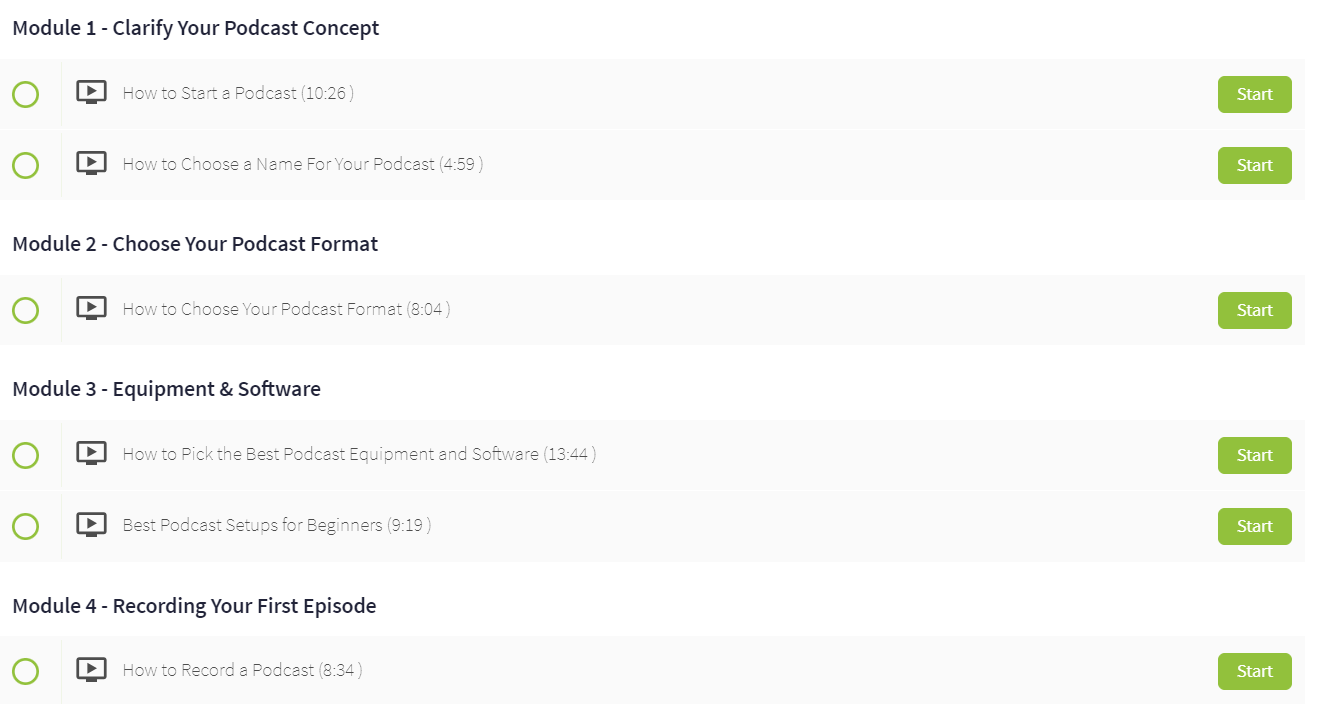 Power-Up Podcasting
Power-Up Podcasting is a comprehensive and highly regarded online course created by Pat Flynn.
Pat Flynn is a renowned figure in the podcasting and online business world. He is widely recognized as a successful podcaster, entrepreneur, author, and speaker. With his expertise in podcasting and online marketing, Pat has built a strong reputation for helping individuals and businesses achieve success in the digital space.
It is designed to guide aspiring podcasters through every step of the podcasting journey. This course offers a wealth of knowledge, insider tips, and practical strategies to help individuals launch, grow, and monetize their podcasts successfully.
What You'll Get
Video content with step-by-step technical training
An action plan to guide you from brainstorming to your podcast launch
Ongoing help from Pat and the SPI community
Price
$499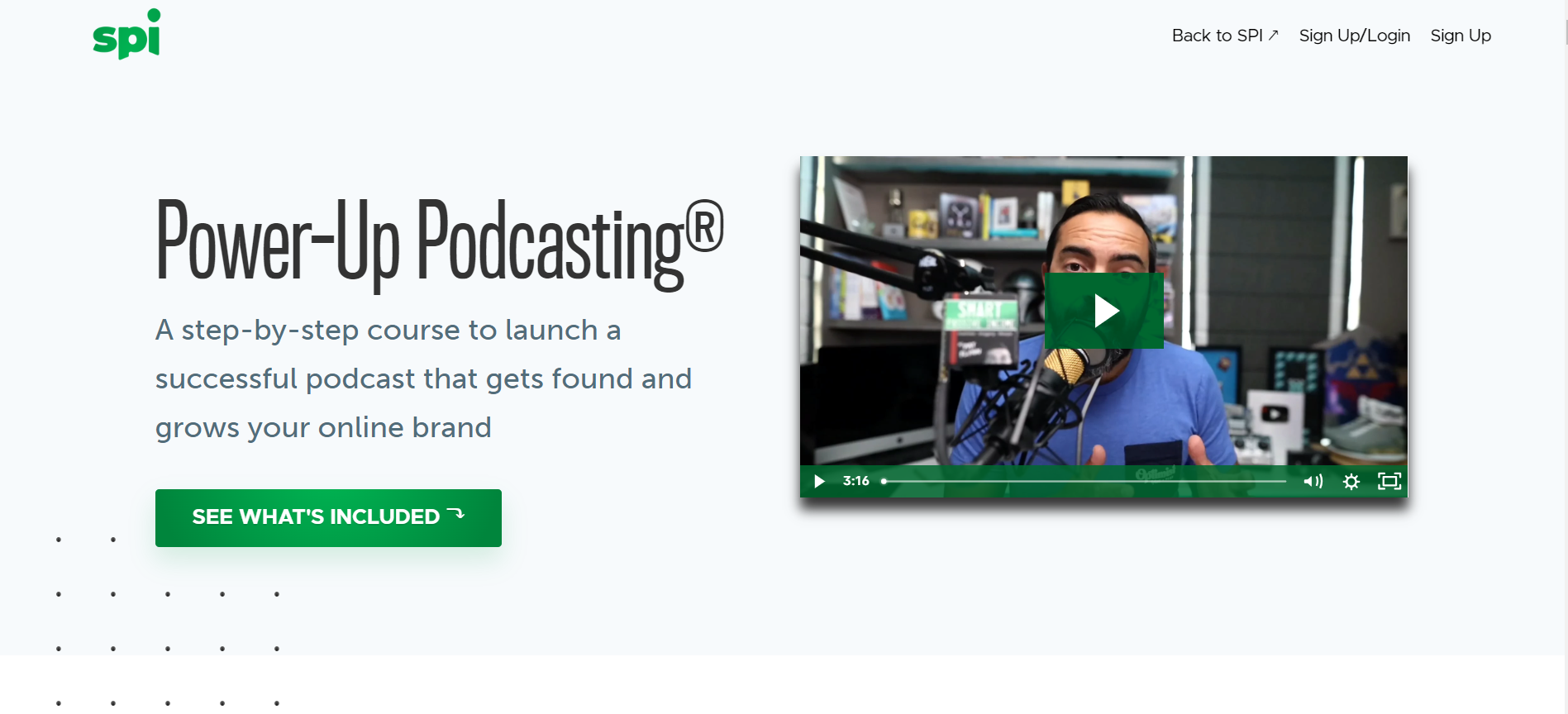 Producing Podcasts by Danny Ozment. He has established himself as a go-to resource for anyone looking to create and produce professional-quality podcasts.
This is a great course designed to equip podcasters with the essential skills and knowledge needed to create high-quality, professional podcasts. As an experienced podcast producer, Danny Ozment brings his expertise and industry insights to guide students through the intricacies of podcast production.
The price is variable and can be free for free trial with LinkedIn Learning.
What You'll Get
Video content:
Planning your podcast
Producing podcast content
Publishing and distribution
Promoting your podcast
You will receive a certificate after completing this course.
The Podcast Masterclass: The Complete Guide to Podcasting
Created by a team of industry experts: Phil Ebiner, Ravinder Deol and Video School, this course is a comprehensive and in-depth guide designed to equip aspiring podcasters with all the knowledge and skills they need to launch, grow, and monetize their own successful podcast shows.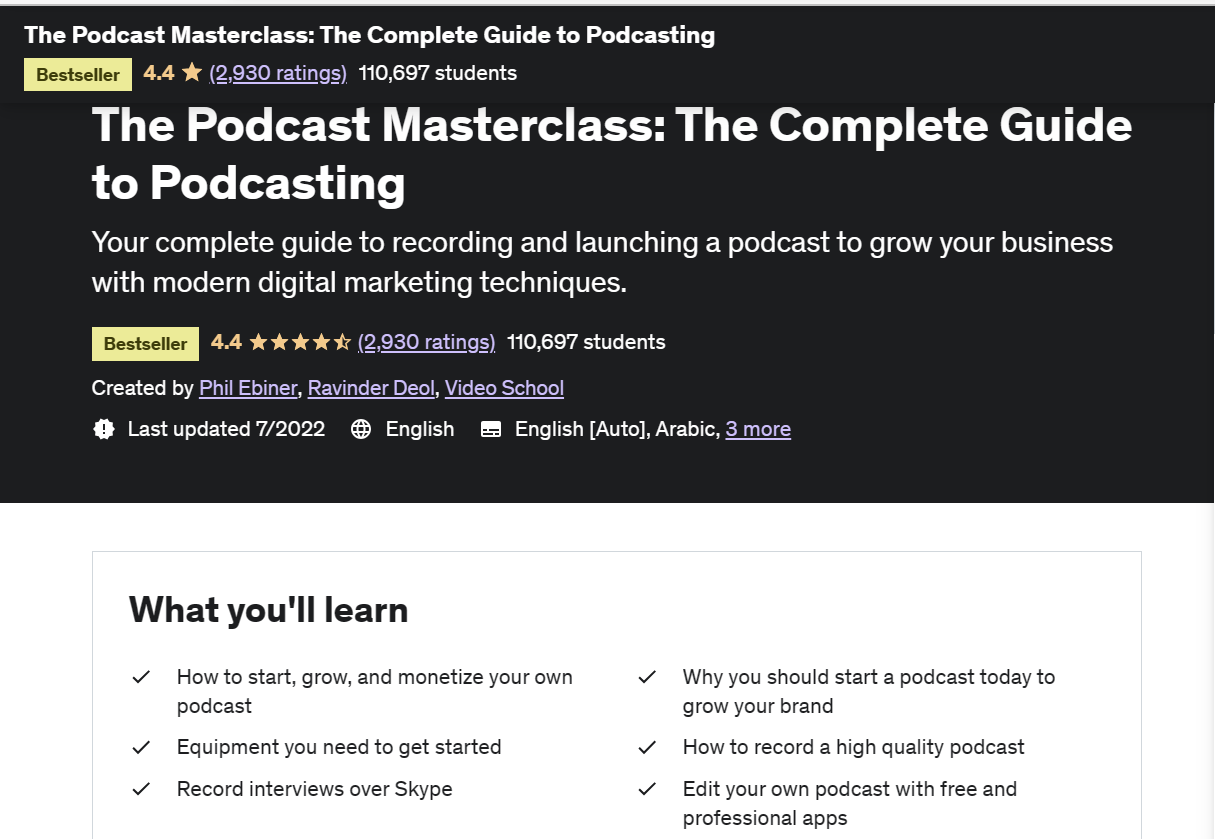 What You'll Get
This podcast class covers every aspect of podcasting, from conceptualizing and planning your podcast episode to recording and marketing it to a wide audience.
It includes 11 sections, 68 lectures within more than 5 hours total length. 5.5 hours of on-demand video
There are also assignments, articles, and access on mobile and TV.
It covers:
How to start, grow, and monetize your own podcast
Interviewing Skills: Record interviews over Skype
Publish your podcast to iTunes, Stitcher, Spotify, and Google Play
Much more about editing and launching
Price
$72 for full lifetime access.
Produce a High-Quality Video Podcast
This course will show you how to record a high-quality video for your podcast, using Riverside, a platform for recording videos. This course is designed for podcasters who want to level up their podcast with a video. It's also ideal for anyone needs instruction for recording videos like Youtuber, interviewers…
You need to have a Riverside account to access this course and the price may vary
What You'll Get
Video source with 19 Lessons (2 hours), showing you:
All the podcast gear and equipment you'll need for any budget
How to build out your recording space
How to make sure your guests look and sound their best
How to set up and record inside Riverside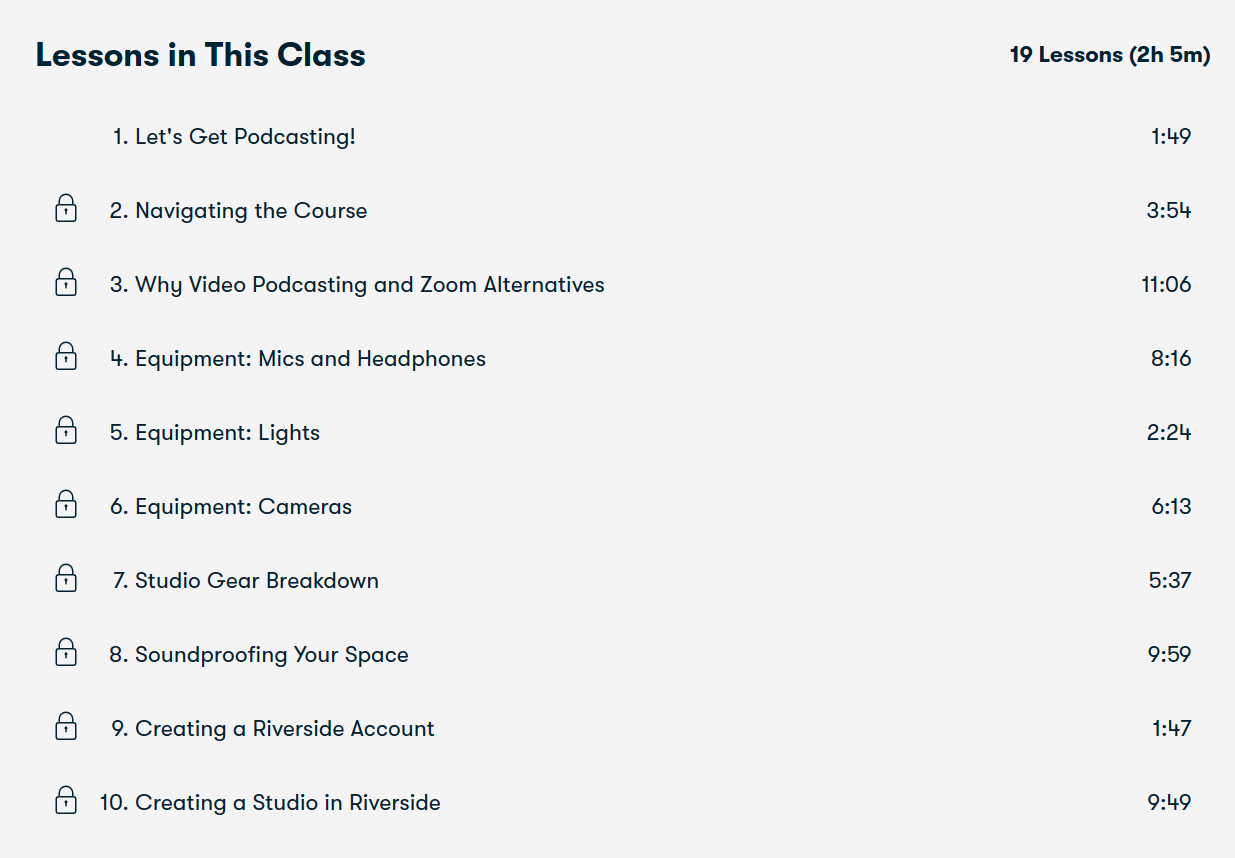 Adobe Audition CC Audio Production Course Basics to Expert
Led by experienced instructor Mike Russel, who has extensive knowledge in sound production and Adobe Audition CC.
Edit is a crucial process in producing a successful podcast, there are many podcasting courses that teach you how to do it. But if you want to focus on editing skill with a highly recommended editing software, Adobe Audition, this online podcasting course is for you.
By the end of the course, you will be able to edit audio in Adobe Audition, apply useful tricks and tips to your post-production process.
What You'll Get
This course provides step-by-step instructions and practical examples to reinforce your learning. You'll have access to video tutorials, downloadable resources, and hands-on exercises to apply what you've learned. It includes:
2 hours on-demand video
3 downloadable resources
Access on mobile and TV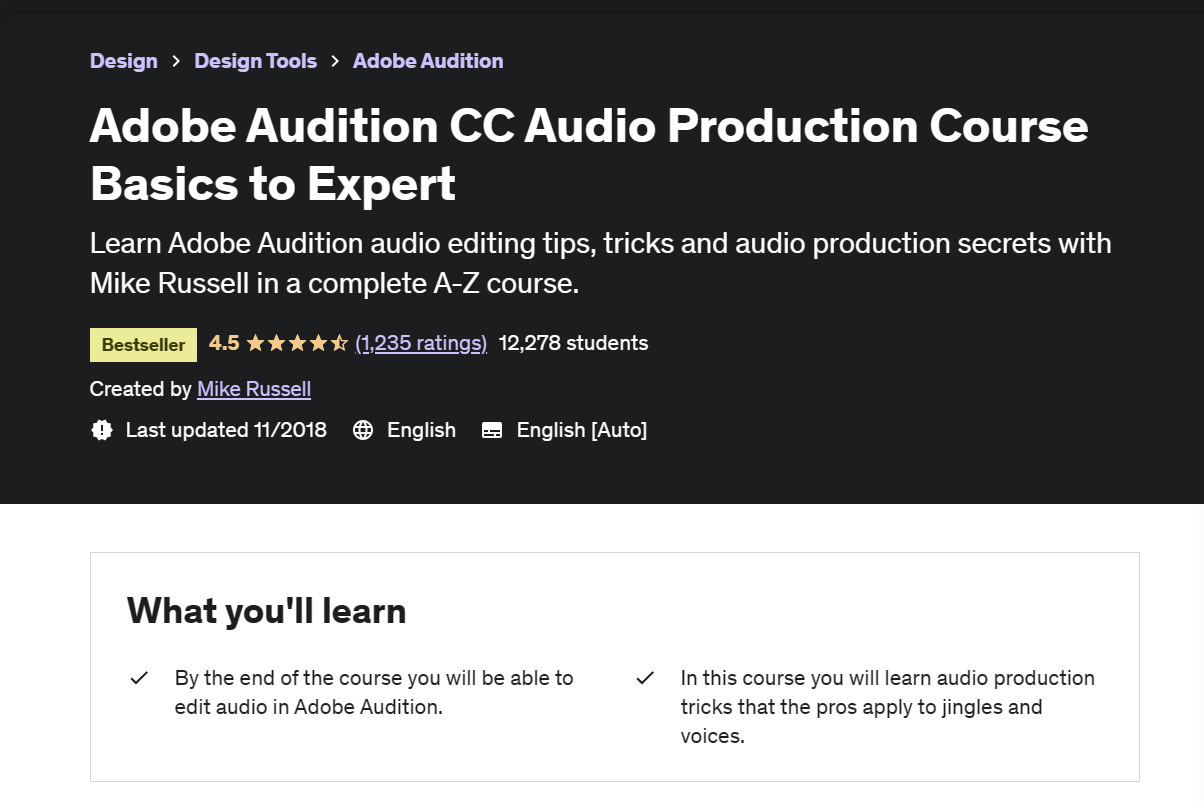 You'll learn about:
Noise reduction
Music Production
Vocal and sound effect
Price
$72
Other Things To Prepare When Starting A Podcast
Content And Format
Look for a course that covers all aspects of podcasting, from the basics of recording and editing to advanced topics like marketing and monetization. Check if the course offers additional resources such as templates, guides, or tools to enhance your podcasting journey.
Consider the format of the course, whether it's delivered through video tutorials, live sessions, or written materials. Choose a format that aligns with your preferred learning style and schedule.
Instructor And Reputation
Research the instructor's background and experience in the podcasting industry. Look for courses taught by seasoned podcasters or professionals who have achieved success in the field. Their insights and practical knowledge will be invaluable to your learning process.
Read reviews and testimonials from past students to gauge their satisfaction with the course. Positive feedback and success stories are indicators of a high-quality course.
Price And Value
Consider the course's pricing in relation to the value it offers. Look for courses that strike a balance between affordability and the depth of content provided. Determine the course duration and whether it fits within your timeframe. Some courses may be self-paced, allowing you to learn at your own speed, while others may have specific start and end dates.
If possible, opt for courses that offer a money-back guarantee. This way, you can try the course risk-free and ensure it meets your expectations.
Final Thoughts On A Comprehensive Podcast Course
Note that podcasting is not just about creating audio content; it's about storytelling, engaging your audience, and building a loyal community. A well-structured course will equip you with the skills, knowledge, and confidence needed to create compelling episodes that resonate with your listeners.
Taking a course provides you with a clear roadmap, guiding you through each step of the podcasting process, from ideation to distribution. It allows you to tap into the expertise of experienced podcasters and industry professionals, learning from their successes and avoiding common pitfalls.
By choosing the best podcasting course and investing in your development as a podcaster, you'll be well on your way to creating captivating content that resonates with your audience and leaves a lasting impact in the podcasting world.